Some Days Are Diamonds...
As John Denver put it; "Some days are Diamonds, Some days are Stone". Wednesday, January 29, 2020 fell squarely in the latter category. The end of January and beginning of February is historically the cloudiest period of the year and so far, 2020 wasn't doing anything to change that reputation. I chose Wednesday for my weekly photo foray simply because the forecast called for "mostly cloudy" as opposed to just plain "cloudy".
It's been a few years since I have visited Goose Island County Park just south of LaCrosse, WI. There's an area in the park where there are bird feeders that are kept stocked throughout the winter. It's a great place to photograph winter birds such as cardinals, nuthatches, titmouse, red-bellied woodpeckers and much, much more. Flush with my success at the Sax-Zim Bog, I decided to head down to Goose Island for more bird photography. It's a 1-1/2 hour, 80 mile trip, one way, from my house to the island. Under very cloudy skies, I headed out at about 8 AM. I arrived only to find that the whole park was CLOSED... Seems they are reconstructing the park road! As I recalled from my previous trips, the repairs were long past due.
So... what to do now? I decided to head up to Colvill Park in Red Wing, MN where I'd had some success with eagles a couple of weeks before. Goose Island to Colvill is just shy of 100 miles/2 hours! But hey! At least the roads were in good shape. Arriving at Colvill Park, where I'd easily seen 50-75 eagles before, I now could count the number of them on my fingers, with a few fingers left over! There were very few ducks around either! Strike 2! I ate my lunch at Colvill, hoping for some activity but the few eagles that were there were content just sitting in the trees.
So, now what? Only thing I could think of was to start heading for home but I chose a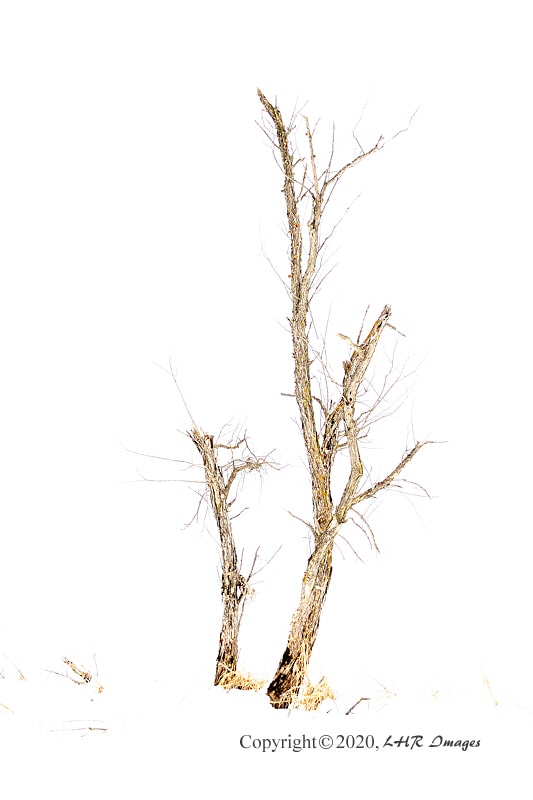 scenic route through the Whitewater Wildlife Management Area (Colvill to Whitewater: about 50 miles). As I was driving though the Management Area, my mind shifted to looking for landscape photographs in the bleak winter landscape, especially as the sun made a very brief but very weak appearance!. My eyes were attracted to single trees in the marshes, weathered and twisted from their long, hard lives, bereft of their summer leaves. I was finding it difficult to isolate the interesting trees I found. Mostly, my vantage point from the road had me looking down at them so there was always distracting background. Finally, I remembered the pair of snowshoes in the car. Strapping them on, I headed for one of the trees and managed some photos with minimal background. Back at home, I decided to eliminate even that background when I edited the image. The result is the image you see to the right.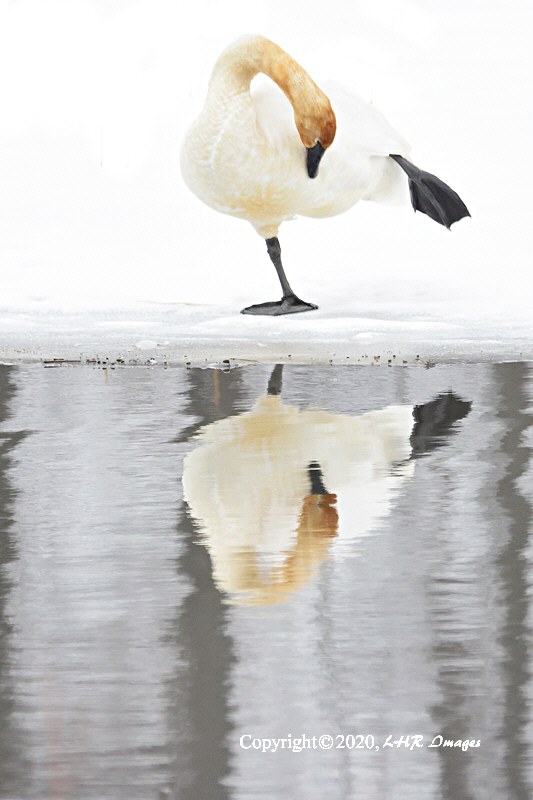 Further along the road, I found a small flock of swans resting at the edge of open water not very far from the road. I particularly liked the reflections in the strip of water. Then, one of the swans started stretching and preening. It reminded me of people doing Yoga! And, the swan seemed to be using the water as a mirror.
So, the day wasn't a complete strike-out after all. At least I came home with a few decent images I could work with. The two photos seen here can be viewed larger and purchased in the Embrace Winter Gallery. "Yoga for Swans" can also be found in the Wildlife Gallery.
And, that's how it is with nature photography. Some days are Diamonds. Other days, you have to make Diamonds out of Stones!
Another bright spot to the day: thanks to my Hy-Vee Fuel Saver Rewards Points, I was able to fill up the tank when I returned to town at about 95 cents/gallon! And, the tank was pretty low after all that driving!