Sax Zim Bog, January 20-23, 2020
The Sax-Zim Bog is a large geographical area located west of Cotton, MN, which is partway between Duluth and Virginia. It is well known among birders and wildlife photographers as a great area to see and photograph birds not commonly found in the United States. The birding in Winter is especially good with many species escaping the colder winters up in Canada. Owls, including Great Grey Owls and Northern Hawk Owls are frequently sighted. Occasionally, when the winter is especially tough, other species such as Snowy Owls and Boreal Owls can be found. Birds such as Boreal Chickadees, Common Redpolls, Pine Siskins, Evening and Pine Grosbeaks and many more are usually very accessible in winter.
I've been to the bog maybe a dozen times over the last few years and there's always something different. I just completed my most recent trip, a 4 day trip with fellow photographer and good friend Gordon Dietzman. We were there from January 20-23.
A lot of the usual subjects were missing this year. The relatively warmer temperatures so far this winter have allowed many species to stay further north. There was still a lot to see though and I got a few "lifers"... birds that I'd never seen and/or photographed before.
Woodpeckers
One of my lifers was a Black Backed Woodpecker (right). We spotted several females but no males. These woodpeckers feed on grubs just under the bark of dead and dying trees, denuding the trees by chiseling away the bark. Most of the ones we saw stayed high in the trees, making photography somewhat difficult. The male would have looked very similar to this but with a patch of yellow on its head.
Another, closely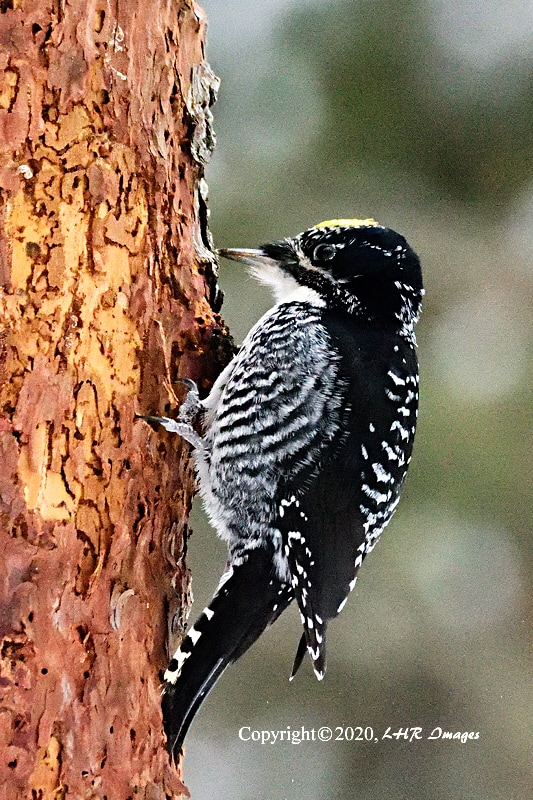 related lifer was a 3-Toed Woodpecker (left). In this case, we found one or two males but no females. The 3-Toed made life a bit easier by staying lower in the trees. It too was chiseling away at the tree bark. We found it in the same area as the Black Backed. As you can see, it has a ladder pattern on its back instead of the solid black of the aptly named Black Backed Woodpecker. The Female 3-Toed would lack the yellow patch.
Both of these woodpeckers are about the same size, and closely resemble, the much more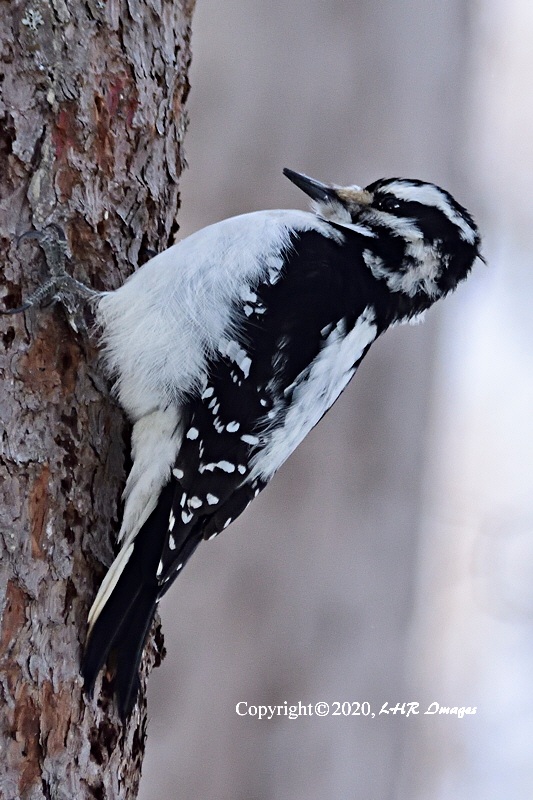 common Hairy Woodpecker (right). We saw plenty of the latter as well. The Hairy isn't quite as specialized as the other two, working on many different species of trees.
Owls
Any trip to the Bog is made extra special with an owl sighting or two. On this trip, we spotted 4 different species including a Snowy Owl that was way off in the distance. Just close enough to identify, too far away to photograph.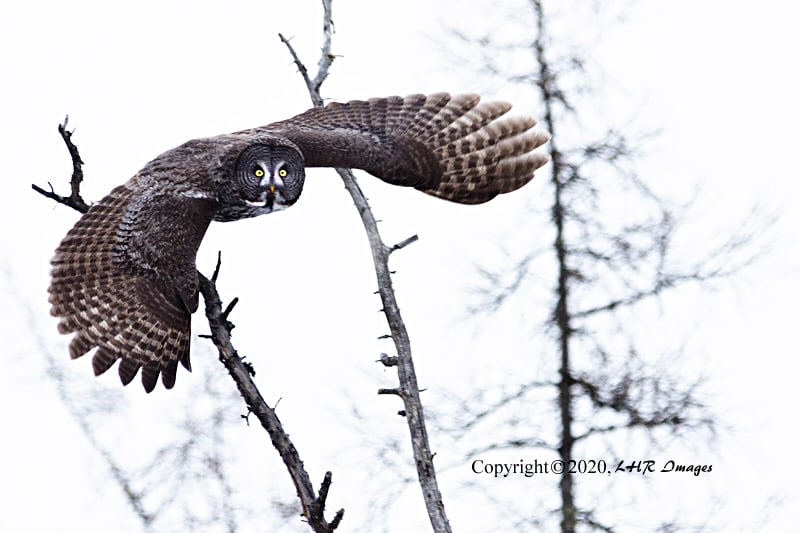 We did, however, find a Great Grey Owl (left)... albeit, very briefly. Most of the time, these owls are fairly tolerant of people. This one, however, took off as soon as I stopped the car. I was lucky that I had the window down so I was able to get this one shot before it flew over the car and disappeared into the spruce forest on the other side. Great Greys are night hunters and shun the daylight. The best time to find them is early in the morning or late in the afternoon. They can be seen later in the morning or earlier in the afternoon on a cloudy day such as we had when this photograph was taken.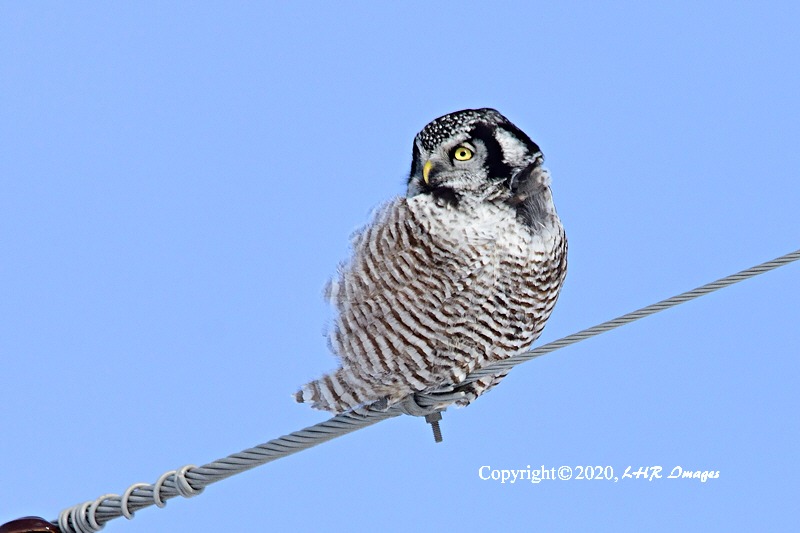 We saw a couple of different Northern Hawk Owls (right). One of the individuals was way too far away to photograph. The only other one we saw was sitting on a power line. Not the kind of shot I prefer but we never saw him in a more natural setting. He at least was striking different poses for us. Hawk Owls are day hunters, hunting by sound more than sight, and can be seen on a bright, sunny day. They too are usually pretty tolerant.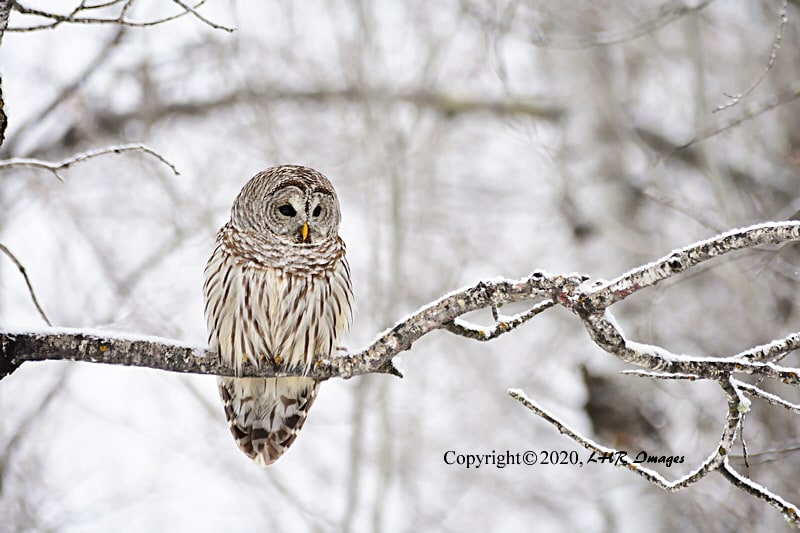 While I had seen, and photographed, both Great Grey and Northern Hawk Owls before, I hadn't encountered a Barred Owl (left) --although I'd often heard them. We were within minutes of leaving the Bog to head home when we found the individual pictured to the left. Unlike the Great Grey we'd seen, the Barred Owl was very tolerant and easy going. I have several photos of it, many a lot closer than this one, including head shots. I like this one because it shows more of the environment..
Other Birds & Critters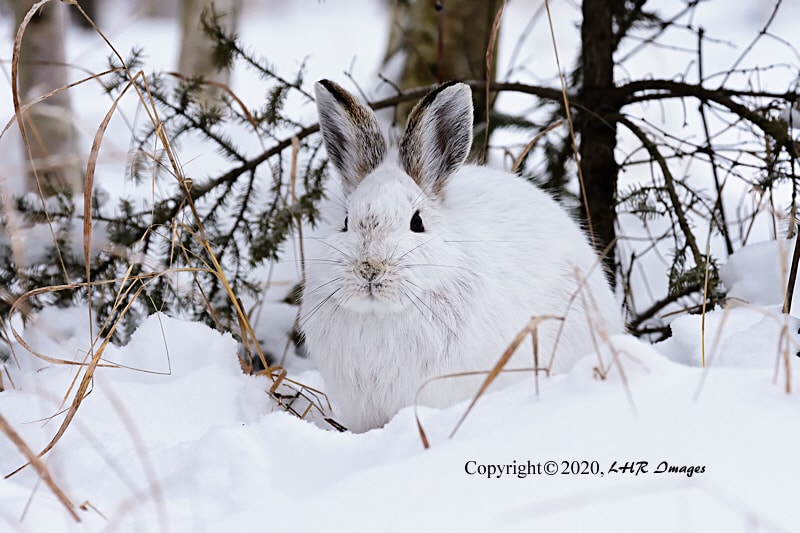 We, of course, saw our fair share of Black-Capped Chickadees, Red-Breasted Nuthatches and Grey Jays, along with Hairy & Downy Woodpeckers. Crows, Ravens and Magpies were also spotted. Red Squirrels were abundant. Our best mammal find was a Snowshoe Hare (right) -- another lifer for me. It, again, was pretty tolerant, relying on its camouflage to keep it safe.
The Sax-Zim Bog did not disappoint on this trip. While I missed some of the birds I'm used to seeing there, it was thrilling to find wildlife I'd never seen and photographed before. Each trip there is different which is very good reason to keep returning.
For this trip, Gordon and I stayed at Alesches' Accommodations which I highly recommend. Very comfortable and homey, convenient to the bog and at a very reasonable price. It was fun meeting other birders and photographers in the evening, sharing our finds of the day and discussing plans for the next.
The photos featured in this blog, and many more, are available for purchase in both the Wildlife Gallery and a special Sax-Zim Bog Gallery. They'll also be available at the upcoming Birding Festival to be held February 14-16 in Meadowlands, MN which is located in the SW corner of the bog.